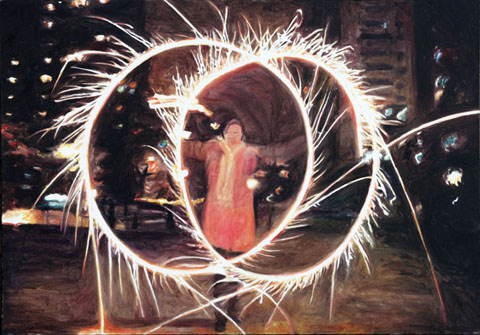 Fireworks for the First Time in Ten Years
A girl in the Fangzhuang District spins ignited, handheld fireworks. The 2006 Spring Festival was Beijing's first Spring Festival after the lifting of a ban on fireworks in the city. The sound of fireworks was heard inside the 5th Ring Road for the first time in ten years.
Xia Xing, 06.01.29, oil on canvas, 70 x 100 cm, 2007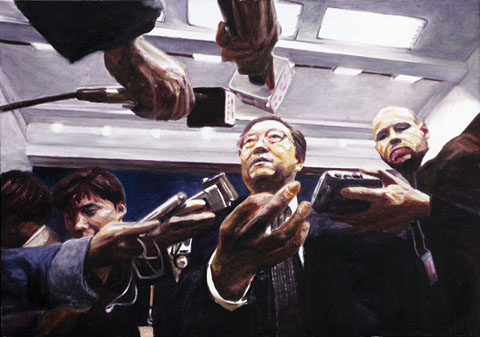 Results of Investigation of Major Accidents Made Public Today
The results of the 11 special investigations of major accidents have been announced. The director of The State Administration of Work Safety, Li Yizhong, criticized the local governments responsibility to control safety, and pointed out serious problems of corruption between officers and business men involved behind these incidents.
Xia Xing, 06.12.22, oil on canvas, 70 x 100 cm, 2007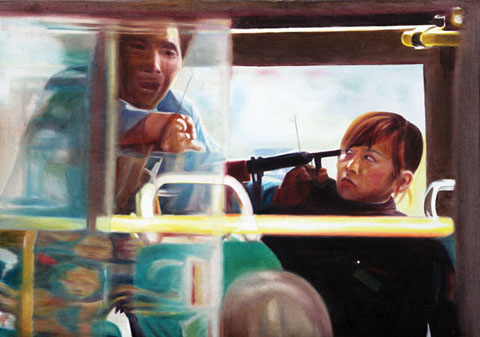 Hostages Taken on Bus Ride


A man, armed with knives and a nail gun, jumped on a public bus in Guiyang City and took hostage a female passenger. Snipers shot the suspect and took control of the situation as a female police officer entered the bus to negotiate the exchange of hostages. The suspect was suffering from intermittent mental illness.
Xia Xing, 06.12.28, oil on canvas, 70 x 100 cm, 2007